Exploding Topics

<

info@explodingtopics.com

>

Unsubscribe



Hey, Here's this week's list of rapidly trending topics, insights and analysis.
Facial toner is a thin cream that's used for cleansing and hydration purposes. Some facial toners also exfoliate. In South Korea, facial toner is used as part of a 10-step daily beauty routine which is said to help prevent wrinkles and reduce the visibility of pores. Other steps in the beauty routine include applying
facial essence
and
serum
, which are two other examples of natural beauty products with growing demand.
What's next:
Facial toner is part of the "K-beauty" meta trend. South Korea's beauty product exports rose 10x over the past decade, reaching $5.32B. Other Korean-inspired beauty products include
micellar water
,
eye cream
,
retinol serum
,
foot masks
,
hair masks
,
sheet masks
,
scalp brushes
and
acne patches
. The popularity of those products has led to many non-Korean companies making their own versions as well. Like France's
Bioderma
micellar water, New Zealand's
Gleamin
clay masks, and New York's
Glow Recipe
fruit-based peels and creams.
Interview Kickstart coaches programmers to ace technical interviews. According to the startup, their platform has helped engineers get jobs at Amazon, Google, Facebook, Apple and Netflix. To help maintain scalability, the bootstrapped company teaches in small-group cohorts. The startup reports that approximately 500 students per month "graduate" from their programs.
What's next:
Interview Kickstart is part of the "knowledge coaching" meta trend. IBISWorld estimates the U.S. business coaching market at $11.6B. And aside from a dip this year caused by the coronavirus, it's been growing consistently since 2013. In fact, search interest in
business coaching
is up 142% in 5 years. But we're seeing increased interest in many other knowledge-based types of coaches as well. For example:
Agile methodology coaches
(search interest is up 241% in 5 years).
Executive coaching
(searches are up 55%).
Gaming coaches
(up 614%). And
virtual health coaches
(up 133%). We're also seeing a rise in professional coaching platforms like
BetterUp
,
CoachHub
and
HireClub
.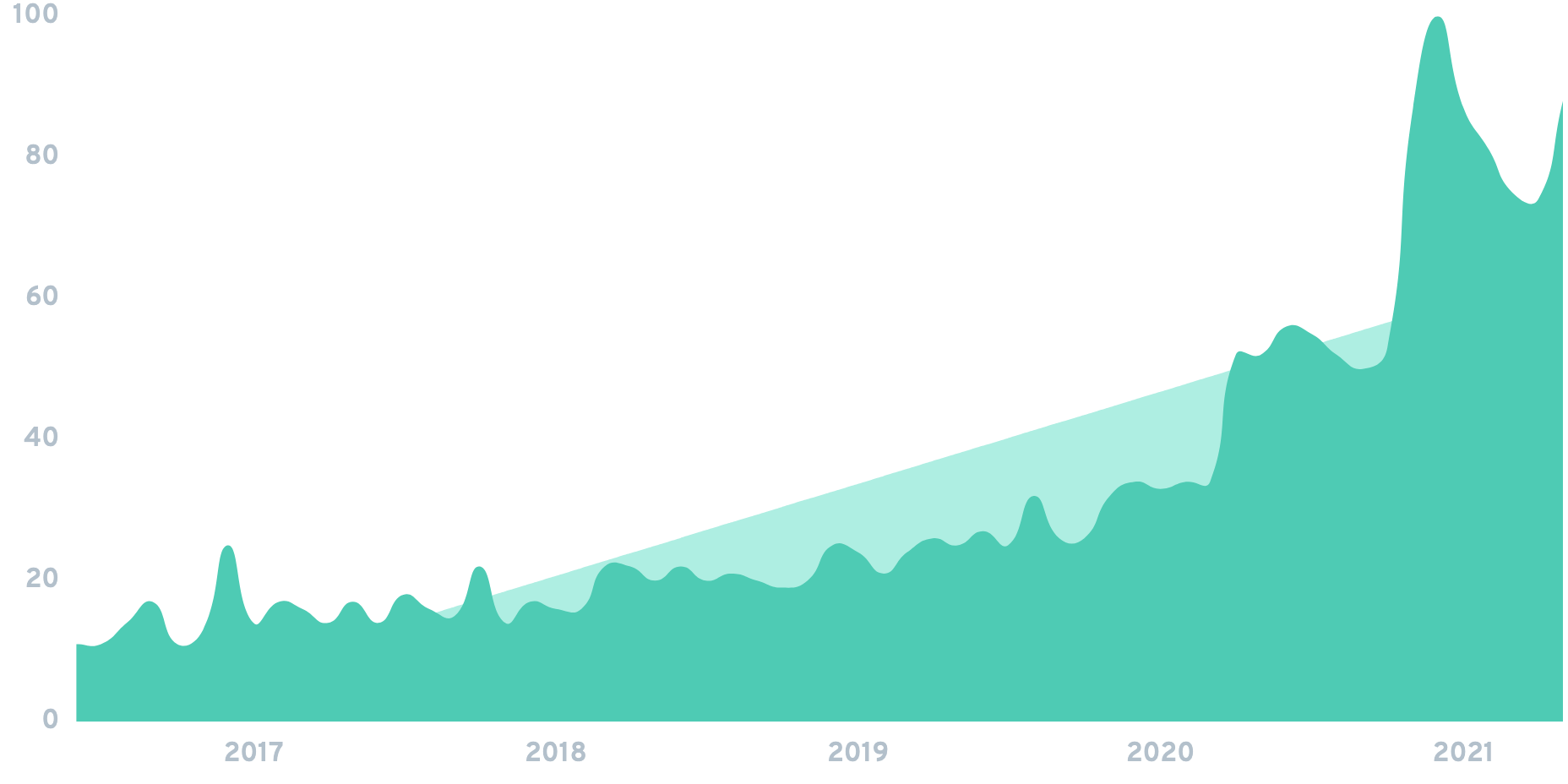 Vuori is Lululemon for men. At least, that's how it got its initial traction. More recently, it has expanded into women's athleisure clothing as well. With people staying home, interest in comfortable lounge clothing has skyrocketed. As a result, Vuori nearly tripled its sales last year. The startup is also capitalizing on the "green" angle. It has committed to using 80% sustainable materials by 2022 and is already offsetting 100% of its carbon footprint. The company has raised $45M to date.
What's next:
Vuori is part of the growing "
athleisure
" meta trend. The global athleisure market is expected to grow at a CAGR of 6.7% through 2026, when it should reach $257.1B. While NPD Group estimates that activewear and lounge clothing accounted for 31% of total spending on apparel this holiday season in the U.S., up from 26% the year before. Other growing athleisure brands include: British startup
Gymshark
, which is valued at $1.3B. Fast-growing
Alo Yoga
. And Seattle-based DTC startup
Girlfriend Collective
.
Podcast kits are just what they sound like: several pieces of podcasting gear bundled into one product. They're also called "podcast starter kits", as they're generally aimed toward beginners. The concept of podcast kits started organically, as blogs and tech review sites recommended different product pairings. For example, a specific microphone with a shock mount, pop filter and boom arm that fit together. Manufacturers and merchants quickly caught on. Now, an Amazon search for "podcast kit" displays over 1,000 different products. Ranging from simple microphone accessories kits for about $20 to multi-microphone bundles with pro-level mixing boards and headphones for over $1,000.
What's next:
Podcast kits are part of the "mainstream podcasting equipment" meta trend. According to Chartable, 885,262 new podcasts were started in 2020 alone. And 104 million Americans now listen to podcasts on a regular basis (Edison Research). Both numbers are higher than ever before. Other products and services taking off as part of this trend include:
Podcast cameras
and
podcast microphones
like the
Blue Yeti
and
ZOOM recorder
.
Podcast advertising
platforms and
podcast marketing
services.
Podcast hosting
packages. And
podcast editors
.
When you sign up for
Exploding Topics Pro
you'll get instant access to the above Exploding Topics Pro Only trends 6+ months before anyone else. Along with dozens more untapped trends. So whether you're an investor in search of the next untapped investment opportunity. Or an entrepreneur looking for a new product to launch. Our premium weekly reports will help you find exploding trends… before they go mainstream. So if you want to get ahead of the curve, try Exploding Topics Pro today.
We hope you enjoyed this week's Exploding Topics Tuesday. See you next week. Talk Soon,
Brian and Josh
PS: Did someone forward this to you? You can hop on the newsletter
right here
.