It's June 8th. Anthony Bourdain, a master of writing, cooking, and living life to its fullest, died three years ago today.
May his work continue to be a damn good inspiration for writers, chefs, and just about everyone else in the years to come.
WWDC21 is over. Here's what Apple has for marketers
Apple announced a slew of new features at its WWDC21 event. We did the hard work and picked the most relevant ones for you as a marketer:
+ You may no longer be able to track open rates for Apple's emails.
The company is planning to add a feature to its Mail app that will allow users to mask their IP address and prevent senders from knowing when they open an email. We don't know if this will be enabled by default.
+ You'll be able to split test your copy on the App Store.
More specifically, you'll be able to test videos, preview screenshots and app icons. You can, of course, change the text on those images and test your text copy that way as well.
+ You will be able to promote in-app events such as live streams, movie premieres, and live competitions.
Apple will have a section in the app store called "Events You Might Like." In-app events will also be featured on Apple's App Store home page and be visible on your app's listing.
+ Safari on the iPad and iPhone is getting browser extensions.
This creates a massive distribution channel for developers and marketers. Just think of how many extensions you have installed on your browser.
Pinterest wants people to buy more stuff
Pinterest wants its users to not just browse for products, but buy them as well.
In that spirit, the company has made these announcements:
Users from Australia, Canada, France and Germany will now see more of Pinterest shopping features.
Pinterest introduced "Shopping List", its own version of a shopping cart. Users will have all of their product Pins saved in one place as a result of this. The idea is to have a single location where you can return to buy the items you've been eyeing.
The Goods by Pinterest: In a two week Shopping Spotlight, the company will highlight limited-edition products from brands that sell exclusively on Pinterest.
What this means for you: If this works, expect to see a higher percentage of people coming from Pinterest to convert to buyers.
What's holding you back?
That's a pretty direct thing to ask, we know but…
What's holding you back? Is it strong competition? Lack of time? Missing growth ideas?
If you answered yes to any of the three, you should check out our deep dives we do for Insights.
Is strong competition holding you back? We analyse some of the strongest brands in their category and unveil everything about their marketing – from social and search to backend strategies around email and SMS.
Is it a lack of time? We spend 200+ hours digesting all the information into a jam-packed deep dive of ~100 pages so you don't have to. Landing page breakdowns, branding analysis, social ads, search, emails and more.
Looking for untapped opportunities? We look at all channels these companies use, the old, the new, and the unheard of.
Our promise: If you don't find one practical idea that can improve your bottom line within 24 hours of joining and checking out the deep dives, email us and we'll refund you.
We mean it. Hear what the founder of Snow said about the deep dive we did about his company. Just click play on the video on this page.
Have a free look at 4 previews of these deep dives. Become an Insights member today and you get access to all 4 deep dives plus a 5th deep dive on July 1st.
That's under $20 per deep dive!
How to weed out low-quality sites when link building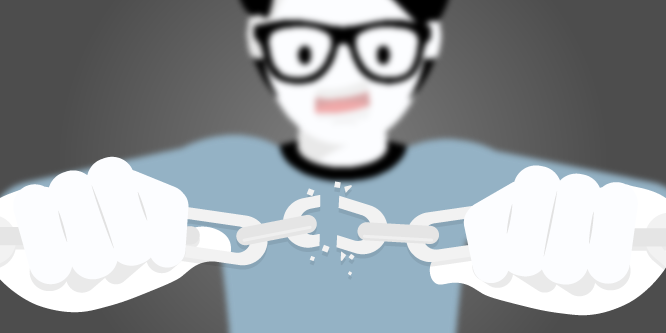 Link building is an essential component of any SEO strategy. However, Google doesn't just reward any links: You need to signal true authority.
Once you have a great piece of content for your audience, it's critical to prioritize which websites you should reach out to for link building, and not waste time on links that don't give you any SEO juice.
And Moz's Chris Giarratana explained the approach he uses to screen out low-quality sites during link building.
1) Bulk disqualification: Once you have your piece of content, you can run various footprints through tools like Scrapebox, NinjaOutreach, or Pitchbox to get a big list of potential sites to contact.
At this point, you should remove the bulk of low-quality sites by:
Disqualify various URL parameters: Remove websites with URLs that include footprints like "wiki", "forum", and "news".
Remove guest posting websites: While these websites can be useful, they usually have little impact on your link-building strategy. Remove sites with "submit", "write for us", or "guest post" pages.
2) Identify powerful sites: After the first step, you know that your list doesn't contain guest post websites or that your link won't end up on a forum. Now you can use a few metrics to identify the authoritative sites in your list:
Topical relevance and authority of a site.
Monthly traffic.
Domain authority.
3) Manual review: At this point, you should have cut out nearly 90 percent of websites on your initial list. Now it's important to manually check these websites before reaching out to them. The list may still contain websites that were created just to sell links.
You should also avoid websites with excessive advertising, because they were probably built to make commissions rather than provide good content.
That is all. In addition, Chris Giarratana suggests the use of different tools to go through this process more efficiently.
SEO: We're in the midst of an SEO storm. Google's June 2021 Core Update is affecting an increasing number of people.
YOUTUBE: It seems like YouTube's TikTok Clone is showing potential. The company is expanding Shorts to Canada, Latin America and the UK.
E-COMMERCE: You know what's better than a browser? An e-commerce browser. Apparently, Opera is building one.
CLUBHOUSE: Android users <3 Clubhouse. The audio social network now has 4 million of them, doubling their number since last week.
WORDPRESS: The blogging platform is on fire, growing in the (b)illions.
SNAPCHAT: After recently launching their own version of Facebook Pages, Snapchat wants you to (finally) start using it. The company has created a short course to educate you on the best practices.
INSTAGRAM: If you're doing influencer marketing on Instagram, you might wanna read this. The social network is trying to standardize how influencers promote brands.
Three people are trapped on a plateau. It's surrounded on all sides by a 100-foot deep ravine. All the people have is a 20-foot-tall ladder, a 7-foot-tall ladder, some lighter fluid, two pogo sticks, and however much rope they need. How do they get across?
You can find the solution here.
| | |
| --- | --- |
| | POOLSIDE CHAT |
El Salvador becomes the first country to adopt bitcoin
Welcome to El Salvador, a small country in Central America with 6.4 million residents. And the first country to use bitcoin alongside its official currency.
During Bitcoin 2021 in Miami, touted as the largest bitcoin event in history, El Salvador President Nayib Bukele said that his country will become the first nation to adopt the crypto currency as legal tender.
It makes sense: Around 70% of El Salvador residents don't have any credit cards or bank accounts. International money transfers incur very high fees, ranging from 10 to 20 percent. Also it takes several days for the money to arrive. So, a move like this could definitely move things in the right direction.
Will other nations follow suit?
Share this email with your friends and get cool rewards! From our Insights Poolside Chat, to stickers, T-shirts, one-of-a-kind coin, custom-made magazine cover, to lifetime Insights full membership and a trip to Vienna, Austria!
Just click the button below! It takes less than 60 seconds to share.
CLICK TO SHARE
Or copy your referral link: https://www.stackedmarketer.com/friend-recommended/?utm_source=sparkloop&utm_medium=referral&tum_campaign=sm_daily&rh_ref=fdf4e5f7