On June 8-9, Inside will be hosting "Meet Our Fund", a two-day reverse demo day where 25 venture capital funds and accelerators will pitch to 10k+ founders! This event is free thanks to our many sponsors, including BurnRate.io , a revenue tracking platform that helps you pinpoint exactly when and how to grow your business.
If you are interested in attending our event, click here to reserve your spot!
| | |
| --- | --- |
| Stephen | |
---
SoftBank paid former WeWork CEO Adam Neumann close to $450M in cash, stock awards, and fees to separate from the company. That figure does not include $578M worth of WeWork shares to SoftBank by a Neumann-controlled investment vehicle, We Holdings.
More:
As WeWork prepares to stack a second stab at a public debut via a merger with SPAC BowX, Neumann stands to make up to an additional $250M.

The windfall would come as the result of a deal to sell Neumann's profits interest units, which function similarly to stock. The money is contingent on the shares of BowX trading above $10 after the merger.

The settlement confirms that SoftBank paid Neumann $92.5M under a 2019 consulting agreement. That is in addition to the $105M paid by SoftBank, of which half will be used to cover Neumann's legal fees.
SoftBank invested over $10B in WeWork in the run-up to its failed IPO in 2019, driving the company's value to over $47B.
The co-working space provider was recently valued at $8B and reported a $2.1B loss in 2021 Q1.
---
Base10 Partners will invest 20% of the profits from its latest $250M fund in historically Black colleges and universities (HBCU). That constitutes half of the carried interest that makes up the income of the firm. The funds will be used to support scholarships, particularly in tech or tech-adjacent areas.
More:
Over $50M of the $250M in capital commitments came from the HBCUs themselves.
As HBCUs tend to have endowments half the size of other schools, Base10 made a point of accepting smaller checks from them and waiving LP fees.
In the year since George Floyd's death, Black-founded companies represented 2.8% of the startups that received venture-capital dollars, accounting for 1.2% of the total funding.
Base10 is the largest Black-led venture firm in the country.

It is an early-stage investor and has made 50 investments through two previous funds . Excluding the latest fund, it had $387M under management.
---
A MESSAGE FROM DELL FOR ENTREPRENEURS
Grow your Startup with Dell for Entrepreneurs
Did you know that Dell for Entrepreneurs has a dedicated program to help equip Startups with the technology they need to achieve their dreams ? The team at Dell for Entrepreneurs can help you find the best software and hardware solutions for your business that will not only help you today but will be scale as you grow!
Here is their offer if you sign up today:
Free IT Consultation
Entry into a draw for $1000 in Dell technology
Take your Startup to the next level and ensure that you have the fundamental technology required for sustained long-term growth.
---
Today's VC Industry Trends looks into funding for U.S.-based gaming startups.
All figures are based on Crunchbase data and all graphs are my own.
As evidenced by the Apple vs. Epic Games court battle , gaming companies are increasingly throwing their weight around. Gaming is clearly a new mainstay of everyday life.
That statement pans out when analyzing the consistent investor enthusiasm for gaming startups.
Since 2015, gaming startups in the U.S. have raised somewhere around 55 rounds, with only two major aberrations from that figure in early 2019 and early 2020.
Meanwhile, the average round for gaming companies has skyrocketed to almost $120M, whereas it stood at a mere $10M in mid-2017.
VC funding for gaming has shifted its focus from earlier-stage rounds to later-stage funding in the last few quarters.
Series A funding, for example, has brought in a similar dollar flow for the entire viewed period, with the exception of a major uptick in Q1'20.
In contrast, Series D+ funding expanded rapidly in the last two quarters to bring in over $1B per quarter.
Seed funding has continuously brought in similar sums, attesting to the ability of smaller studios to find investors willing to bet on untested companies.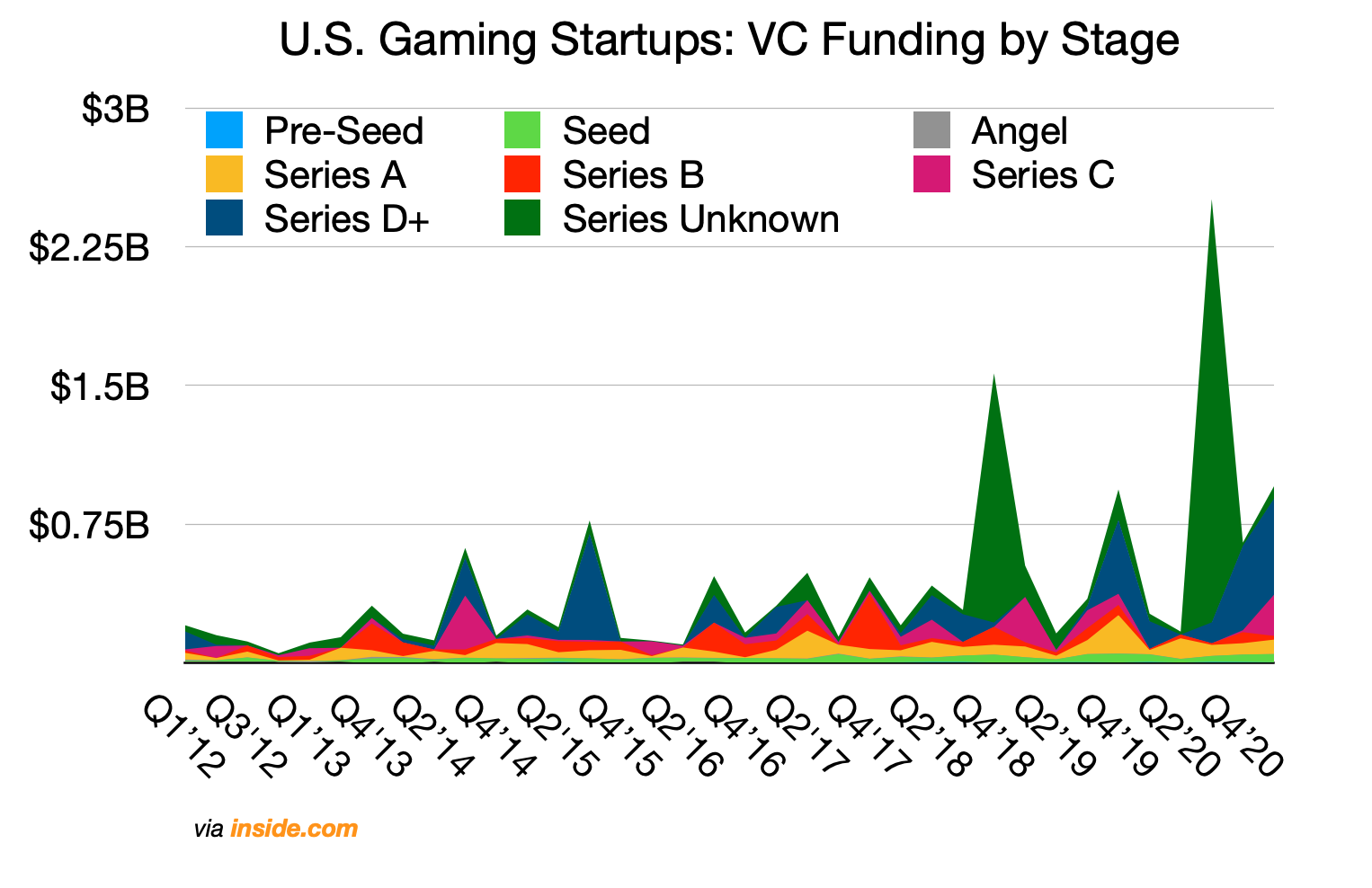 While the total number of rounds has maintained a stable level, the distribution of the rounds has changed.
After being supplanted by pre-seed fundings, seed rounds began growing in frequency in the last two quarters.
The number of both Series C and Series D+ rounds has been boosted, while Series B rounds have become rare.
Angel rounds, while never prevalent, have also all but disappeared.
Series A funding rounds have doubled in their average size over the last eight years.
The average seed round has also doubled in the same time frame.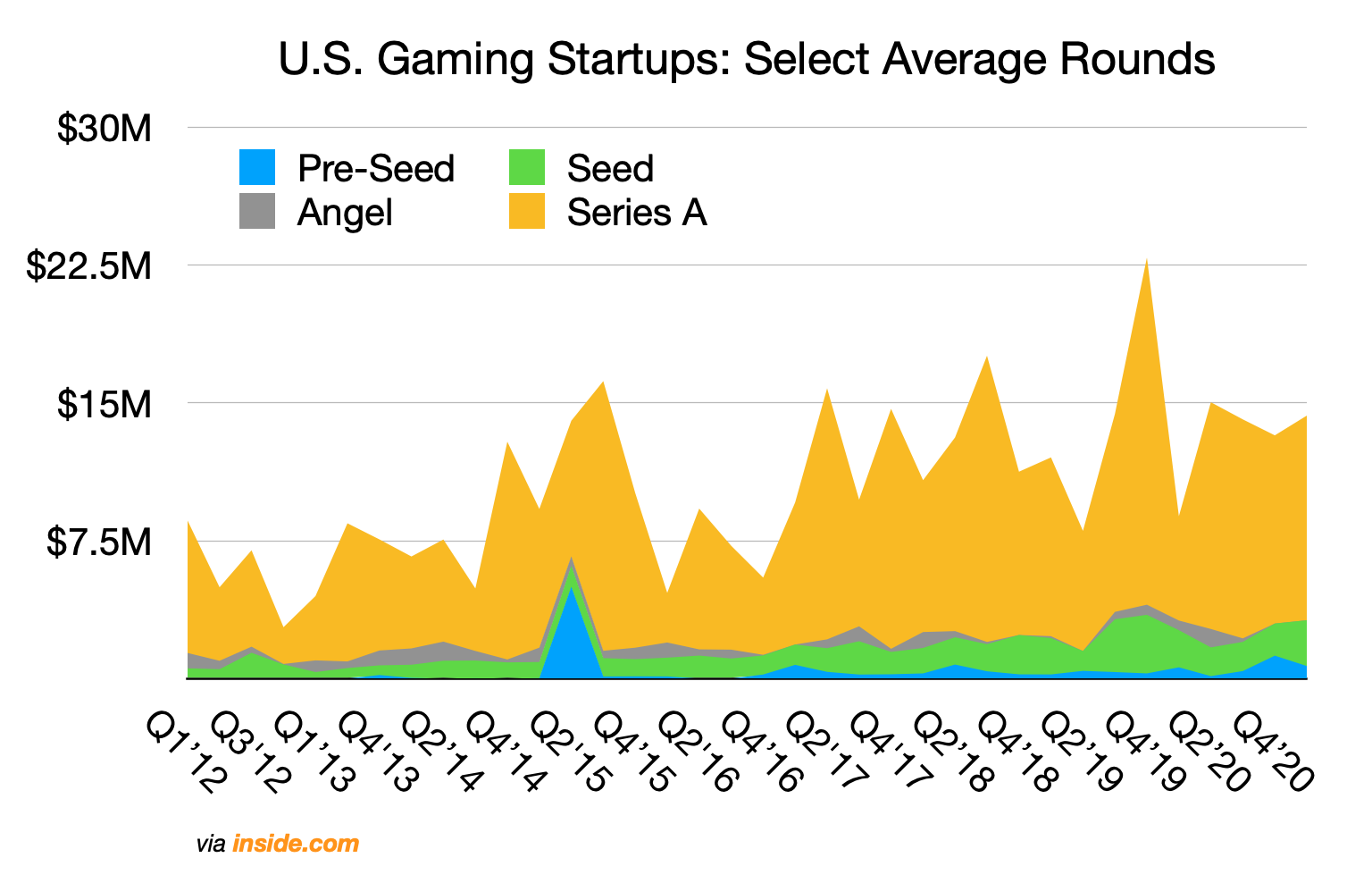 One of the biggest factors driving the growth in the aggregate average round is the increase in post-IPO funding.
Meanwhile, debt and private equity (not shown) make up a very small part of this funding landscape.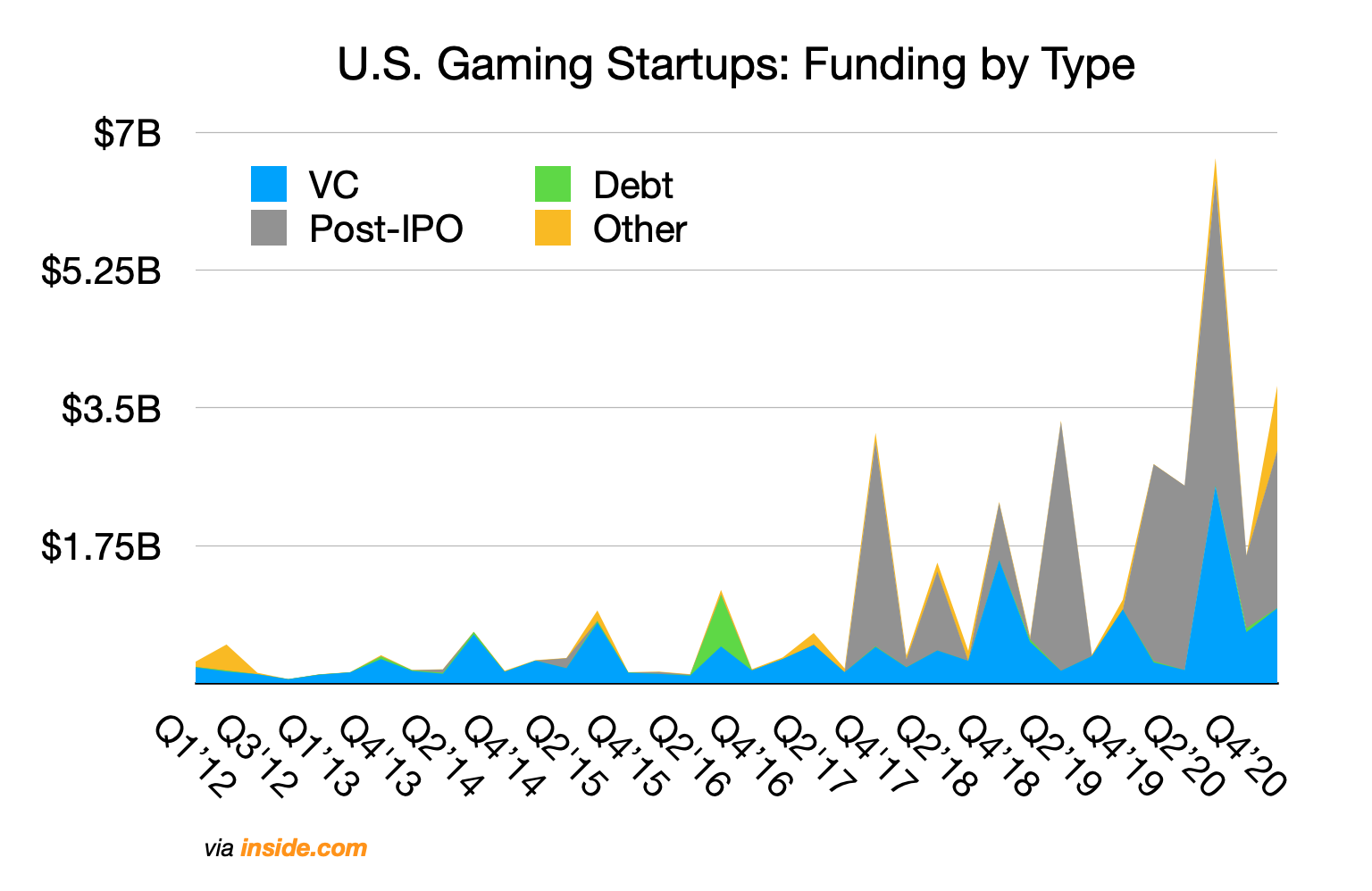 Did you enjoy checking out these graphs? Most of my exclusive VC Industry Trends features, which have looked into Southern U.S.-based fintech startups , Japanese startups , SV mobile startups , U.S. manufacturing , U.S. foodtech , global insurtech funding , Midwestern startups , and more, are reserved for premium subscribers. To get them all, upgrade to Inside VC Premium for either $10/month or $100 billed annually! For a limited time, we are offering a 14-day free trial of premium! Click here to sign up!
Today's Funding
Adtech/Martech
Agtech
Biotech/Health
Blockchain
Consumer
Cybersecurity
DevOps
Enterprise
Fintech
Logistics
Proptech
Robotics
Did you enjoy reading about all of today's funding in one place? The funding roundup is only available to free users on Tuesdays and Fridays. Upgrade to Inside VC Premium for either $10/month, or $100 billed annually, to receive the full list in every issue! For a limited time, we are offering a 14-day free trial. Click here to sign up!
Quick Hits
*This is a sponsored post.
---
Upcoming events hosted by Inside.com
June 8th & 9th, 2021 – Inside Venture Capital: Meet Our Fund
To register for our events visit: events.inside.com
---
Inside VC's writer/curator Stephen currently lives in Berlin and is pursuing a Master's degree in philosophy. He otherwise spends his time trying his hand at recipes from India and Southeast Asia, escaping it all at the kickboxing gym, and offending aural sensibilities with his band.
EDITOR