Are you OK with uncomfortable questions?

Every great entrepreneur I know has a knack for facing them, even when it's tough.

So with that in mind, let's face one together. 🙂

What's holding you back from launching your product right now?

No judgment. I'm not asking to make you feel bad. Or to guilt you into doing something you're not ready for.

But I DO want to make sure you truly are not ready. Because while there are legitimate reasons for not launching, it's far more likely that you've fallen into the same trap that keeps tons of course creators and coaches stuck in place for years:

Worrying that your audience isn't big enough for you to launch yet.

Let me be perfectly clear about this:

There is no such thing as having an audience that's "too small" for you to launch. You can get consistent sales for your next product from Day One even if you have little to no audience whatsoever.

And I'd like to prove it to you by taking a quick, embarrassing trip down memory lane. 🙂

Because, believe it or not, I didn't have a massive audience when I launched my first successful product.

Instead, all I had was a website that looked like this:




The year was 2013. And my website looked like a Word doc.

I didn't have testimonials proclaiming my greatness and credibility to the world.

I didn't have a bunch of viral blog posts.

I didn't know hair product could be a good thing.

Nobody knew who I was.

And yet I was on the verge of landing hundreds of customers for the online course I was creating at the time.

How?

Instead of trying to sell it to my own (almost nonexistent) audience, I accidentally borrowed someone else's.

Let me explain.

Through sheer hustle and experimentation, I'd managed to cobble together a small email list of just over 100 people. I told Noah Kagan, the founder of a company called AppSumo, that I'd managed to do it using some of the tactics I'd learned from his online course.

He responded by inviting me to write a guest post for his personal blog (OkDork) on how to get your first 100 email subscribers.

My response? HECK YES!




Noah showcased me to his audience, and the results over the next few months were astounding:
Over 1,000 people joined my email list
331 people bought the lower-priced product I was selling at the time
For a total of $10k in sales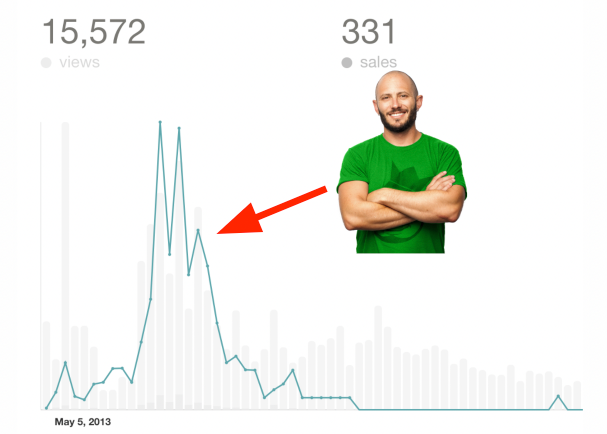 The best part? As I launched higher priced products over the next year, the subscribers I gained from that post went on to spend over $100k total on them.

This was my "lightbulb" moment:

Instead of always trying to sell things to my own audience—I could just get in front of other people's audiences to sell them.

There were TONS of ways to do this beyond just guest posting:
Podcast interviews
Partner webinars
Facebook Live trainings
Instagram Live trainings
Lead magnet swaps (AKA guest emailing)
Whatever niche you're in, there are hundreds of companies and thought leaders who already have audiences full of your ideal customers. And they all need the same thing—quality content to feed those audiences.

You can become that content by simply sharing your expertise.

Quick example to show you that this approach is NOT unique to me:

One of our coaching clients, Shannon Mattern, recently generated $20k in sales of her online course and digital products by delivering one "guest training" for another business's audience.
Shannon helps entrepreneurs and bloggers build DIY websites to market their business

She reached out to another course creator, Kathy Goughenour, who trains people to become virtual assistants (VAs)

VAs often have a ton of questions about web design, but Kathy didn't have any resources or experts to turn to for information

So Shannon hosted an hour-long training on web design for Kathy's audience:


This was a massive win-win for both Kathy and Shannon:
Kathy got quality content that helped her audience be more successful
Shannon got to become the go-to "website person" in front of Kathy's audience
See, something magical happens when someone gives you and your business a warm introduction to their audience…

That audience immediately likes and trusts you. Which makes converting them into customers brain dead simple. Here's how Shannon described it:

"I just get to show up, do what I love doing, and not 'sell,'" she said. "All I have to do is say 'Hey, if you want to learn more, go here,' and send them to my funnel. It's way more fun than just selling all the time."

This is why it does not matter if you have a small audience when you launch your product.

You can easily pick up customers by getting in front of other people's audiences. You only need to know how to do two things to pull it off:
Where to look
How to ask
Fortunately, my team and I will personally help you do both of those things in our new program, Sell It, Then Build It: A 4-Week Mastermind for Launching Your Next Product.

In addition to helping you turn your product idea into an irresistible offer, we also find 100 audiences you can sell it to (and help you get in front of them).

Here's how it works:
First, my team and I study your business to find out who your best customers are.

Then, we identify 100 influential people and companies who already have your ideal customers in their audience.

Then we write a pitch to your #1 best lead, so all you have to do is hit "send" to get them to feature your business to their audience.

We also document every step of the process, so you can quickly learn how to approach and convince nearly anyone to feature your business to their audience.
We even guarantee at least 5 of the target leads we find will feature you to their audience.

Again, this is all happening in the background as we coach you through the process of creating the key assets you need to start selling your next product.

A handful of spots are already spoken for (and other applications are pending), so go here to get the full details from my team now.

By the end of our time together, you'll not only have your first wave of sales…you'll also have an attack plan in place to continue bringing in new customers every month (without having to buy ads).

Over the course of 4 weeks, my team and I will work with you to…
Transform your rough idea into an irresistible offer you can sell immediately (BEFORE you put an ounce of energy into creating it)

Create a high-converting email sequence based on tried-and-tested templates we've used across hundreds of launches in every niche imaginable

Map out a simple plan to deliver your product after you sell it

Build a list of leads who are eager to buy from you (you don't need a huge existing audience to make this work)
Want to join us?

Go here to get your application in while there are still spots available. <<<

We'll take a closer look at your business and then reach out to walk you through the full details of the program (no obligation).

– Bryan
Built with ❤ by Growth Tools
1910 Madison Avenue Memphis, Tennessee 38104
Adjust your subscription settings here.